Jodhpuri Safa – A Colorful Combination of Regard and Respect
Citizens of Jodhpur, Rajasthan, are famous for their colorful dresses in festivals and religious ceremonies. These colors express the different moods of a person and his status. Although Hindu marriages all over India are known for their celebrations, various rituals, and colorful dresses worn by the couple and their invitees, all of them pale in comparison with the stunning and vibrant dresses worn by the males and females of Jodhpur. Pagris, known by various names in different states of India, is an integral part of these marriages. They enhance the groom's look on his special day and help him stand apart from the rest of the crowd. Apart from symbolizing respect and tradition, they also express goodwill and solidarity in all parts of Rajasthan, including Jodhpur. Instead of just another piece of headwear, the pagri symbolizes social status.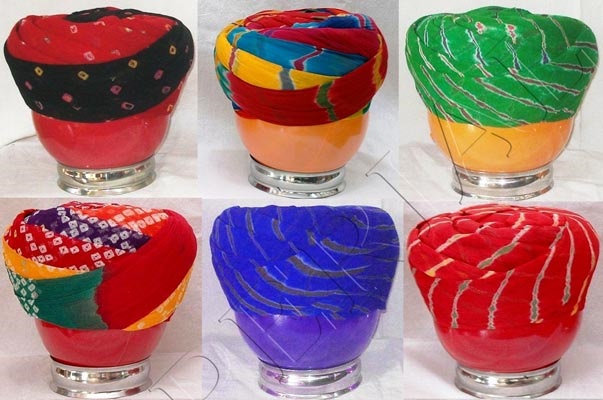 Pagri signifies the tradition and culture of Jodhpur
Minor details like the shape, the embellishment, the color, and the style of draping the yards of cloth, reveal the wearer's social status, profession, region, and most importantly, the occasion it is being worn for. The
wedding pagri or safa
is a male headgear that has deep roots in the culture and tradition of Jodhpur. What differentiates the general pagri from a safa is that the dimensions of the former are approximately 82 inches long and eight inches wide. On the other hand, the safa is much shorter. The
Jodhpuri safa
is a variation of headwear characterized by the long tail of fabric running down the wearer's back. This colorful and bright piece of cloth, adorned with tie-dyed prints, makes it stand apart from the other types of pagris. This single piece of colorful and printed cloth denotes appreciation and respect for the groom and his baraatis.
The importance of the Jodhpuri pagdi
The groom is undoubtedly the most important man in a wedding. His marriage apparel, including his pagri, must be visually distinct from the safas worn by the other males attending his wedding. He can wear a bright red turban, as red is the primary color associated with Indian weddings. To further enhance the look of his pagdi, he can fasten a pearl brooch with a ruby or attach a kundan brooch to the pagri. Our Jodhpuri pagris are famous for their beauty and elegance. People also call them by various other names like multi-colored chundari gajshahi, Jodhpuri pachrangi safa, etc. They are available in a comprehensive combination of yellow, red, pink, white, and saffron. The safas offered by Mateshwari Safa Wala are known worldwide for their designs and styles. We typically make safas with fabrics like silk and cotton. Our jari pagris, which include embroidering the border of the safa with silver and golden thread, are extremely popular and are the best you can put on your head on your special day.
Pagris for other members of the groom's family and baraatis
The groom's father, the family's patriarch, commands special attention and respect during an Indian wedding.  He can wear bright-colored headwear that looks great and makes him stand apart in the crowd. The same rule applies to the groom's brothers and other male family members. No other sight can be as incredible as a group of people wearing the same colored pagdi. Ensure that people attending your marriage remember it forever by ordering headwear of the same color and style for the baraatis. You can depend on Mateshwari Safa Wala, the king of pagdis for this. Just select the color, type, and quantity, and we shall take care of the rest. The beauty and adornment of our
jodhpuri safa design
are so scintillating that it never fails to catch the viewer's attention and makes you envy the gathering when you adorn your head with it. We recommend that you search our website for
pure safa Jodhpuri
. The pure fabric used to manufacture it ensures ventilation and prevents you from perspiring on a hot and humid day. Prevent sweat from damaging your marriage attire with this safa.
The changing concept of Indian weddings
Although most couples prefer to solemnize their wedding and tie the nuptial knot (the knot tied between the bride's and groom's attire during a wedding) in the traditional style, many grooms are slowly adapting to the Western style of marriage. They select their favorite friend to play the role of the groomsman. To differentiate themselves from the baraatis, these special people can wear Jodhpuri safas that perfectly match each other. However, they should not go overboard and don a headgear that pulls all attention towards them. They can achieve this effect by opting for safas dyed with light-colored colors such as green and yellow with patterns in contrasting colors. We are always listening to our customers and are ready to prepare custom-designed pagris for them in the rare case they do not find a pagri of their liking in our collection.
Special sizes are available too
We offer ready-to-wear Jodhpuri Rajputi safa that fits heads of all sizes. Our pagri-tying specialists are available for sporadic cases when the available sizes do not fit your head. We recommend that you visit our website and check the fantastic range of Jodhpuri safas available. Our safas have adorned the heads of ordinary people and celebrities too, and we are sure that you will not end up disappointed after browsing our online store. You should look like a prince on your wedding day. Our Jodhpuri pagris will help you attain that royal look.
The best online pagri store
Mateshwari Safa Wala offers a diverse range of Jodhpuri safa for wedding through their website. If you cannot find the wedding safa to your liking anywhere else, you can depend on us. Over the years, we have helped enhance the looks of Indian grooms all over India with our diverse pagris, available in various colors and manufactured using different fabrics. We take extreme care while manufacturing the Jodhpuri pagri. Our skilled artisans are renowned for the intricate quality of their work, and credit goes to them for making us the preferred choice for individuals and groups searching online for the best quality safas decorated with stunningly beautiful designs.